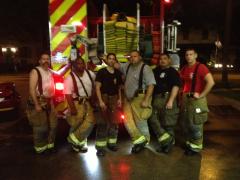 Monday, July 8, 2013 – Early this morning at 00:27 hours, Engine 40 was dispatched to transfer to Harrisburg City Station 2.  A crew of 6 completed the transfer.  A short time later at 00:53 hours, the Engine was requested to the scene of 2042 Susquehanna Street to assist.  Once the Engine arrived, the crew was divided into 3 teams of 2 and sent to work.  Company 40 assisted with both interior and exterior operations.  Engine 40 was placed back in service at 04:16 hours.
Thanks to Engine 1-1 (Palmyra) for standing by at Station 40.  Thanks also to Firefighter Rowe and Junior Firefighter Lemmon for standing by at the station.
Congrats to Firefighter Heicklen on his first fire and earning his black front!
Picture (DC Turner – FF Robinson – FF Heicklen – CH Zwigart – LT Tinari – LT Bloss)