Engine 40

Engine 40 is a 2010 Pierce Arrow XT. It's a 6 man cab, and has a 1500 GPM pump and holds 500 gallons of water.  There is a 50 gallon Class B foam. It carries 1500 feet of 5 inch supply line with multiple attack lines.   It also carries medical supplies with an AED. This is your straight Engine, put's water on the fire.
Rescue 40

This unit is a 1994 HME/Northeast Emergency Vehicles (NEV) walk around rescue. The Rescue Company's primary objective is just that, rescue, whether it is from a fire, vehicle accidents, high angle, collapse, wilderness or industrial accidents Rescue 40 has a tool for the job. This unit carries a full complement of Amkus rescue equipment sometimes referred to as the "Jaws of Life" this system includes spreaders, cutters, and rams. Stabilisation equipment is also carried such as rescue struts, step cribs, cribbing, and high lift jacks. Other equipment, airbags, sawzall's, forcible entry tools, ventilation saws, rescue rope, RIT pack, ventilation fans, AED, EMS equipment, and the list goes on and on. Paxtang Fire Company also trains extensively on being a Rapid Intervention Team (RIT) in the unfortunate event that a firefighter would become trapped or incapacitated the job of the RIT is to rescue downed firefighters sometimes in the heaviest of fire conditions or even collapsing buildings.
Retired Utilities

These vehicles were used in multiple situations ranging from incident command, quick response in severe weather, Fire Police, public services, and fundraising.
Retired Engine 40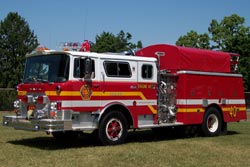 Engine 40 was known as the Da Wagon. Da wagon was a 1980 CF Mack.  It was in service from 1980 till 2011.  It served the borough and surrounding communities well. The Mack is currently owned by our Fire Chief and member.